ANGERYMAN SOLO SHOW for MAGNIFICENT MUSIC
Magnificent Music 10 Year Anniversary Showcase September 10th 2016
@ Roadrunners Rock & Motor Club
Saarbrücker Str. 24
Berlin 10405
http://www.roadrunners-paradise.de
https://www.facebook.com/roadrunnersclubberlin
ANGERYMAN – A.K.A Gamiel Stone SOLO Show….
SHOW:Saturday 10.09. at 21:15
Hello SOAPBOXKINDRED,
You are cordially invited to "Magnificent Music 10 Year Anniversary Showcase"
Celebrating 10 years MAGNIFICENT MUSIC.
In September 2006 MAGNIFICENT MUSIC held their first concert with Cherry Overdrive, The Magnificent Brotherhood and La Ira De Dios at Berlin's Roadrunner's Club. Now 10 years later they bring a host of other acts to the club as well as four other locations throughout Germany & Denmark.
Specialists in Retro, Psych, Vintage & Stoner rock, they  look back on these 10 years, 2,500 appearances booked for about 60 bands and hope that you will come celebrate what has been an inspiring start to A "Magnificent" Agency that prides its self on bring you the best music on the scene….
ANGERYMAN aka Gamiel Stone (of Bands: REVEREND SHINE SNAKE OIL Co. & HODJA) will be performing in his first solo show in many years. Come check out some new songs to add to your SOAPBOX MUSIC experience.
Now in his 7th year with REVEREND SHINE SNAKE OIL Co. and his second year with HODJA the ANGERYMAN is working on something new… It's a "RECKONING" of the soul of a man lost in the world, wandering the globe looking for a place to thrive… Free of spiritual genocide… "Man is born a nomad and thus is his calling… The over development of city life has left many of us burdened with debut and neurosis that were previously unimaginable…" The ANGERYMAN bares all and in his confessions he finds his solace….
In the borough of Greenwich, on a damp winter's night– a child is born. It is Christmas and the paternity ward where his mother lies is all but deserted. Most of the residents have gone home to be with their loved ones. A young woman twenty-five year of age lay on a hospital bed, tranquil, transformed by her experience of labor. She enjoys a candle lit dinner that's been prepared by the nurses. Amongst the white sheets and sterilized instruments, in the dim light of her serene room he came into this world, quietly. His birth is not so significant–it is just another birth in a ward of a hospital, in a borough of a town, in a city called London.
She is a West African immigrant from Freetown, Sierra Leone. His Father is said to have been A Secret Society Elder, He had already fulfilled his purpose in this world and now walked amongst ghosts…
FESTIVAL HOMEPAGE
http://www.magnificentmusic.de/festival/2016
FB-EVENTS:
Berlin – https://www.facebook.com/events/401954406666552
PRE-SALES:
Berlin – http://www.koka36.de/magnificent+music+festival_ticket_72499.html
► https://twitter.com/ANGERYMAN
► http://soapboxmusiclabel.com/
► http://shineonline.dk/
► https://www.facebook.com/REVEREND-SHINE-SNAKE-OIL-Co
► http://hodjatheband.com/
► https://www.facebook.com/hodjatheband
► http://www.noisolution.de/
Click on the image above to watch "The Candidate" new video and first single from Anti-Solipsism pt.1 "Creatures".
Click on the Album cover to purchase the album directly from the band or buy it on iTunes.
For a physical copy of the limited run (only 500 copies) go here.
See what they are saying about Hodja

… From "Be-Subjective" German webzine
Google translation:
Hodja – is the side project of the insane Reverend Shine Snake Oil Co. – Voodoo Blues priest and singer Claudius Pratt and his drummer Matthias. Hodja are bare bones Garage Blues & Black Rock 'n' Roll, turn any Kascheme in a sweaty, dancing cave. Hodja! Devilry! Madness debut. Superlatives. Hodja is the dark side of rock & roll. An heir to the skeleton reduced sound, Leadbelly and similar roots as the sound of bands like The Black Keys or The White Stripes. But the trio reminds us especially every minute to one thing: the fact that the rock & roll is black, black and sexy as Hell…
Read full article here.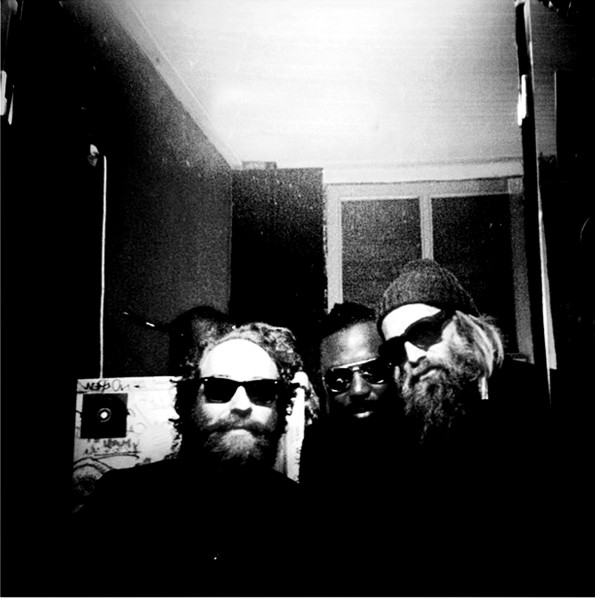 We want to thank Arne Gesemann of NOISOLUTON records for having the courage to work with those of us who exist on the edge of society… We would also like to thank Alexander Schulze of MAGNIFICENT MUSIC for bringing us together and lets not forget about Brother Grimm for bringing us to MAGNIFICENT MUSIC… Peace and Love my Brother.. Take a look at what 20 years of hard work brings you… "Love and Respect!"

REVEREND SHINE SNAKE OIL Co.
will release 8 new songs that will complete the Anti Solipsism Manifesto…
All ye who enter here… go from here with no less than you brought in… May you find the wisdom you seek whether shallow or deep…
(Chinese: 八仙; pinyin: Bāxiān; Wade–Giles: Pa¹-hsien¹) are a group of legendary xian ("immortals; transcendents; saints") in Chinese mythology. Each Immortal's power can be transferred to a power tool (法器) that can bestow life or destroy evil. Together, these eight tools are called the "Covert Eight Immortals" (暗八仙 àn ~). Most of them are said to have been born in the Tang or Song Dynasty. They are revered by the Taoists and are also a popular element in the secular Chinese culture. They are said to live on a group of five islands in the Bohai Sea, which includes Penglai Mountain-Island.
8 songs that will complete the Anti Solipsism Manifesto…
Eight pints make a gallon.
Eight is the third number that stays the same when written upside down.
There are eight legs on a spider, barring accidents. Scorpions also have eight legs.
An eight is a racing boat with eight oars. Its crew is also called an eight. There are eight people in a tug-of-war team.
Some large car engines have eight cylinders.
According to Indian mythology, the Earth is supported on the backs of eight white elephants.
Before the rise of Christianity, there were eight days in the Greek and Roman weeks.
In preparation of the our up coming tour in 2015 we have taken these new press photos. Taken by Karina Tengberg in our secrete lair in epicenter of København…. enjoy!
Codeword reveal: Gracious
The code word is not to be released until 12:00pm
Details: In-Store Promotion & Concert @ Route 66 Fælledvej 3, 2200 København N, Denmark. 4:00pm – 6:00pm EVENT LINK
Instructions: Upon entering the store you must reveal the password/codeword to the attendant at the counter. You will be told if you are a prizewinner.
On Thursday December 11th multiple social network and media sources will pass out a code word… for entering in the "Anti-Solipsism" sweepstakes:
• Red Bull Studios CPH will announce it on their website
• musikblogger.dk
• REVEREND SHINE and all SOAPBOXKINDRED will announce it on their blogs and other social media sites. Use (mailchimp) to post
HOMEPAGE – www.shineonline.dk www.soapboxmusiclabel.com
Twtter – @ANGERYMAN / @SNAKEOILCo
FACEBOOK
• Claudius Pratt (Your Profile)
• REVEREND SHINE SNAKE OIL Co. (Fan Page)
• Soapbox Music (Fan Page)
• Anti Solipsism pt. 1 Creatures (Fan Page)
• the SOAP BOX Ep, by REVEREND SHINE SNAKE OIL Co. (Fan Page)
• BELLIGERENT, by REVEREND SHINE SNAKE OIL Co. (Fan Page)
• KNOWONE, by REVEREND SHINE SNAKE OIL Co. (Fan Page)
• MODERN MAN, by REVEREND SHINE SNAKE OIL Co. (Fan Page)
• YOUR SAVIOUR, by REVEREND SHINE SNAKE OIL Co. (Fan Page)
• LAY WITH ME, by REVEREND SHINE SNAKE OIL Co. (Fan Page)
• Plus selected blogs and media will join in to promote this Supermonumentous contest…
• Visit the Facebook event to find out the code word and how to use it

– REVEREND SHINE SNAKE OIL Co. enters the studio for the third time, this time to record their first full-length album. SOAPBOX MUSIC in partnership with Ein mangfaldig kar (EMK) will release this first act in the newest gospel by REVEREND SHINE SNAKE OIL Co. The first in the Anti series, 5 of 13 songs recorded live in one day in the old Härlanda prison in Gothenburg, Sweden. The Prison was designed by the architect Gustaf Lindgren and ready for use in 1907. In 1997 it was declared a listed historical building, The last prisoner moved out of the prison in 1997. What better place to explore your feelings of isolation than a cold prison floor. "Spending the weekend and setting up to record this record was a moving experience. I got sick, had fever dreams and was almost tempted to abandon the project. But once we got going we just could not stop." – Claudius "These songs that we have selected for you are ones we have carried with us for a few years now, sharpening there edges we attempted to give them to as we did night after night at our live shows… But begin the showmen we are we added just a little bit of extra spice for ya. We brought in a few friends." – Claudius The album will be released in two parts. The first act "Anti – Solipsism pt. 1… Creatures" has now been completed. Recorded by Roger Langvik, artwork designed by Jakob Bue, it illustrates the idiosyncrasies and delusions of a mad man lead by his ego and weighted down by his pride. REVEREND SHINE SNAKE OIL Co. started in 2007 and have since then played over 500 shows in 9 different countries. Originating in New York now living Copenhagen this band of characters (The Sandman, Angeryman, Colonel Taz and the Silk City Kid) have formed a unique brand of music something they refer to as "soapbox music" celebrating the "American Sound" or what some refer to as roots music. But it does not stop there, there's a distinct guttural sound that gains its power from the primitive and distinct polyrythems of Africa and the Anti-establishmentarianism of youth movements like punk-rock and hip-hop.
Release date: May 22nd 2014